All creative processes start with a story.   An idea that just couldn't stay quiet, a problem that had to be solved, art that had to be created….eyewear design is no stranger to this notion.  
And behind each story is a person, the origin of that creative spark. Who has their own personal answer to the eyewear question, informed by their innate creativity and life experiences. The result is a truly unique product, authentic and uncompromised.
For us at Eyeworks London the distance between founders and their product is important. All too often founders are separated from their customers by layers of corporate structure, and their creations are processed by focus groups and shareholder interest, which results in agreeable, palatable eyewear. Great for the masses but vanilla for the individual. At Eyeworks London we don't want ultra-processed glasses, our glasses are fresh from the source, 'free range' if you will.  For the most part we have met all the founders of our brands, we pride ourselves knowing our designers, selecting not just a product but a story for our practice.
On our shelves are the products of lots of stories, like Tony Gross (Cutler and Gross) fitting his rockstar friends with glasses in 60's London, Wim Somers and Patrick Hoet (Theo) mission to make a creative frame, and Jason Kirk (Kirk & Kirk) the family heirloom resurrected.
Today we talk to one of our eyewear founders Caroline Abram, about the story of her self-named eyewear and accessories brand.  
French based Caroline Abram is from good optics stock. Her Father was an eye surgeon and mother Annette was a pivotal force behind  Les Creteurs d' Opta, the Paris boutique that was one of the first to promote independent eyewear designs.  In 1998 Caroline first started making eyewear accessories. The accessories, include colourful beaded chains and lorgnettes, made by a group of ladies in Senegal where Caroline spent her childhood.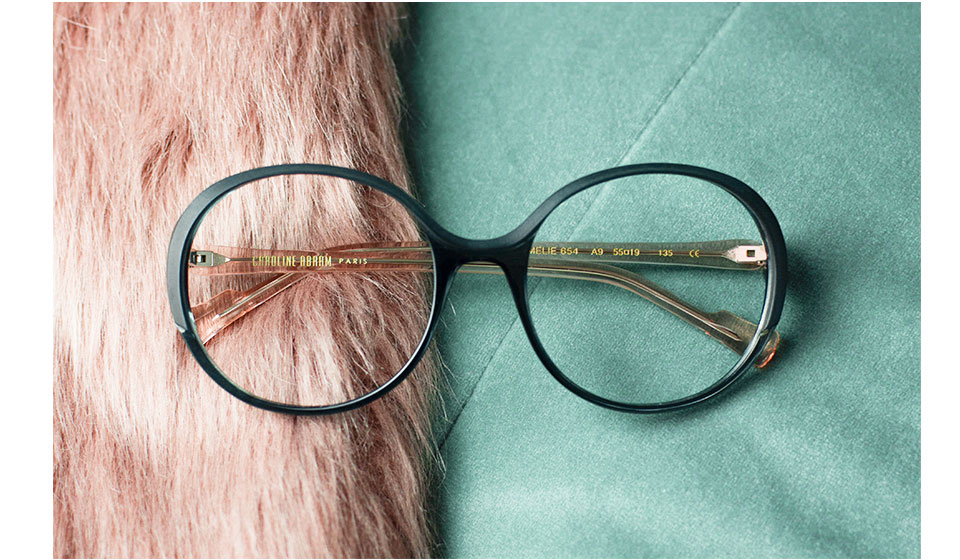 Caroline first launched her eyewear collection in 2008. Motivated by a desire to create 'individuality away from what was available in stores' and inspired by travels to Miami and her Senegal heritage. Caroline's particular influence was Miami art deco design and finds from vintage shops.  Her first project was the cat eye project which was a far cry from the narrow rectangular glasses popular in the late noughties. Resulting in an eclectic confluence of colour and form, all under pinned with a feminine energy.
Caroline Abram eyewear brand is now stocked in 3,000 Optical stores and 54 countries. But despite its success Caroline has a very hands-on role in her business, overseeing all aspects, particularly design and strategy. She lives and breathes her story, operating as you would expect in an elegant Parisian town house in the leafy suburbs of Paris.
I start by asking what was that first spark that compelled you create your own eyewear collection?
I am an optician and with a passion for design. When I started designing eyewear it was mainly for a personal pleasure. At that time I was already known on the optical market for my accessories such as chains, pouches, Opera glasses, and 'bijounette' frame jewels.  So I thought I could add readers to my collection in order to give life to those designs. That was the original idea. But when I was showing the sketches around me they considered my drawings too interesting to be only readers. They were right, my love for eyewear is too strong not to make well-made products. That's how timidly, I presented my first tiny optical eyewear collection to my customers in SILMO 2008. This first collection was composed exclusively of cat-eye shapes at a time when retro was the hit. Retro was not feminine enough for me to feel glamorous and I thought that if I felt this way others might as well. I was right. 
How do you evolve a collection but keep true to your original vision?
I am alone to design all the collections (Caroline Abram, Blush, and Tête à Lunettes), I have no designer team working with me, so it is quite easy to keep a personal original vision. I just follow my own taste and desires. I am also the one to take care of the development and production in order to control all the details. So it's not difficult for the collections to keep their imprint. And the best compliment I receive is when people recognize in the street that it's my brand being worn just from its style. 
Who do you think of when you are designing your glasses. Is it mostly what you would love to wear or is there someone else in mind?
I have no woman in particular in mind but all. I imagine many faces, with different eye color, skin complexion, way of life, age… I wonder how they would see themselves, how they would feel when they put on my future creation. That's my projection.
How would you like people to feel when they wear your glasses?
When a woman tries the frames in front of the mirror I see in their eyes and smile the moment they feel good and it's a great victory. That's the whole purpose of my work. 
I like when a face is highlighted by the frame and not the contrary. It can help reveal the personality or play with a style. There are so many ways to choose a look, a frame is probably the most important accessory. 
What inspires you? For example people, places, arts, nature?
I can't tell precisely what inspires me because it is a deep process that involves all my senses. My travels, the museums I visit, the architecture, the colors of nature, social issues… even the way I feel. They are all sources of inspiration, the brands DNA is made of what feeds me day after day. 
View our Caroline Abram collection here
---